We would love to hear your feedback and comments. If we have acted for you, then please let us know how we performed. Reviews appear below.
Click here to submit your review
---
---
Really Helpful
Jun 09, 2014
by
Fan F
Area Of Law : Property
My first property purchase had a U turn near close of the deal, during which process Ayesha and her team demonstrated great empathy and offered help promptly. They actively engaged with the seller's solicitor, responded positively on my enquiries, and chased for the exchange on my behalf until late in the night. Cannot say how much I appreciate their professionalism and sincerity. Definitely recommend, someone is trustworthy.

---
Jun 03, 2014
by
Frits Van Voorst
Area Of Law : Property
It has been a pleasure working with the team from Ola Leslie Solicitors. They are very professional and friendly, and I would recommend their services to anyone.

---
May 30, 2014
by
David Burgess
Area Of Law : Conveyancing
Client care and efficiency of a very high order.

---
Thank you
May 29, 2014
by
Amy & Ross
Area Of Law : Property
Just wanted to extend to you and Nadine a Huge Thank You for all your help and for being so efficient with the conveyancing for the purchase of our new home. You have been fantastic and we would have no hesitation in recommending Ola Leslie Solicitors to our friends and family.

Thanks Again,

Amy & Ross, Chalfont St Peter

---
Thank you
Mar 28, 2014
by
Lisa. S
Area Of Law : Property Transfer
I would like to thank you and your team for completing this matter, I can't say that it has been easy but you all have been very polite and professional throughout the process and have always been prompt in returning my emails which has really helped ease the anxiety which was present.

---
Great work
Feb 08, 2014
by
Esther Williams
Area Of Law : Conveyancing
Great service . Highly recommended. All done within 4 weeks though I'm sure that can't be the same for everyone as the house was empty in my case

---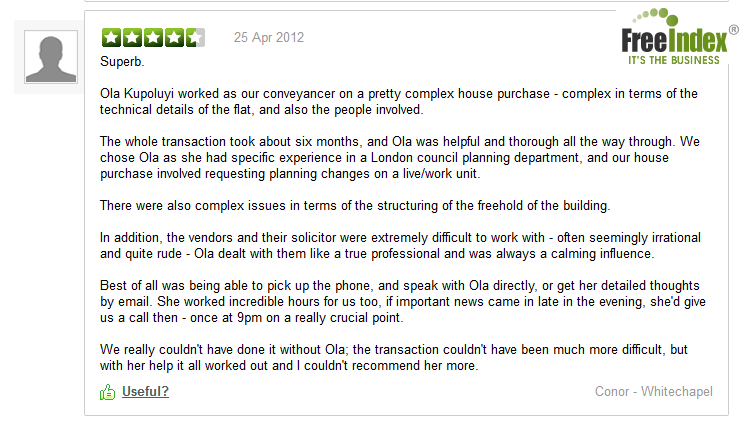 Ola, Thanks again, the service was fantastic and realistic. I have no complaints at all and will definitely use Ola Leslie in the future!
– Dan Saunders, London
 I trust Ola with my affairs in the United Kingdom, from property to business. I can count on her to be discreet and professional when dealing with matters.She is an excellent lawyer and is always able to advise on the best way to proceed
– – Chief R.Odumenya, Director, Tamarine Hotels, GRA-Ikeja http://www.tamarinhotels.com
I highly recommend Ayesha having worked with her to on the recent purchase of a flat in London. Not only was it obvious her knowledge was extensive she was very willing to put through her recommendations even if this meant withdrawing and offer. On this point I whole heartfelt trust her legal opinion and she is able to give this whilst remaining extremely personable and professional. Her attention to detail is second to none and I always felt very comfortable through out the process. I look forward to working with her again soon.
Service Category: Solicitor , Year first hired: 2011, Ayesha's Top Qualities: Expert, Good Value, High Integrity
– Samuel Lilley, London

Ola, I have to thank you so much for putting my mind at ease. My husband and I were very concerned about the situation regarding our son and were finding it difficult to think clearly. One phone call to you and we very quickly felt back on top of things with a regained sense of power and much needed clarity. Our cause for concern soon became very easily resolved and that was down to you. Thank you. Can I also add how impressed I was with your objectivity. There I was rambling and in a panic and you just very calmly, posed the perfect questions, listened and then offered the perfect advice that made me stop and breathe. All of this in the space of 10 minutes maximum.You are professional with an absolute air of confidence and knowing. I will always recommend you.
– Pearl Jordan, London
http://www.creativehomeopathy.com/
Ola recently dealt with our new office lease. From the outset she was highly professional and if it wasn't for her expert advice and tenacity in chasing all parties involved I doubt we would ever have moved at all! I would certainly employ Ola's services again without hesitation and recommend her to anyone requiring legal services for their small business.Service Category: Solicitor , Year first hired: 2011, Ola's Top Qualities: Great Results, Personable, Good Value

– Guy Whistler, Director, Cubit Technology Ltd, London http://www.cubittech.com
I found the prospect of buying my first home very daunting and had some negative preconceived ideas about dealing with a solicitor. I was, therefore, delighted when Ayesha was recommended by a friend – rather than the stuffy, unapproachable image I had of solicitors I managed to find someone who was approachable, easy to talk to, responsive and highly efficient and professional.I had a very tight deadline to complete my property purchase and Ayesha managed to liaise with the vendor's solicitors effectively to ensure my sale ran smoothly and my completion was perfectly timed. Following the excellent service I received, I recommended her to my sister for her property conveyancing and she had an equally positive experience.Thank you!
– Dr. Stuart Sutton, London
Ola acted in a very professional manner, always looking out for me as her client. Ola was helpful in my first property purchase, and when I am fortunate enough for to make my next purchase, I will use her services again.Service Category: Solicitor- Property , Year first hired: 2010, Ola's Top Qualities: Expert, Good Value, High Integrity
– Hassan Behcet, London
Ayesha was great! The sale of my Dads house did not run as smoothly as it could have done, with two buyers dipping out at the eleventh hour, but Ayesha was consummately professional and personal at the same time.I wouldn't hesitate in recommending her to anyone!
– Jane Marshall, Chelmsford
Hi Ola, How are you doing? I trust you are well. I was with Nelson Thorpe Surveyors last week and they commented on how you are always doing an excellent job for them. Well done! and do keep up the good work.
– Michael Idowu, Chartered Surveyor, Birmingham
http://www.michaelidowu.co.uk
Ayesha acted on my behalf for the sale and purchase of my house. Ayesha was fantastic as I wasn't clear how to go about any of it. I explained I was nervous and didn't understand all the "jargon" that is used by the professionals.I cannot praise Ayesha enough when it came to explaining everything to me, so much so that I then asked Ayesha to do my will and once again she did a first class job for me.I have recommended Ayesha to friends and family who have also been over the moon with the level of service she has provided.
– Nina Ambrose, Chelmsford
Not only have I sought expert advice from Ola on a legal matter but I have also had the pleasure to work alongside her on cases. Ola is personable and easy to relate to. She does what is needed to get the job done. She has an attention to detail which shines through in her methodical approach to her work. She listens to her clients' needs and manages their expectations whilst ensuring that they have a full understanding of what is happening. I have no hesitation in recommending Ola. Hired Ola as a Solicitor in 2010, Ola's Top qualities: Personable, Expert, High Integrity
– Heather Nesbitt, Director H.N Ltd, London http://www.heathernesbittltd.co.uk
I am writing to say thank you for all the hard work that Ayesha put into my personal injury claim. I was sceptical about lodging a claim at the outset as I was advised by one company that my claim could have taken over two years despite the matter being straight forward.Ayesha kept in constant contact with me, by phone and by e-mail, and she chased up all parties involved on a regular basis. This resulted in my claim being concluded very quickly; I was highly impressed.I will be recommending her to my friends and family.
– HH, London
Ola Thank you so much for your help. Things are difficult from a far and you made it relatively easy considering.
– Belinda Betts, Australia
In reference to the sale of my flat, I have to say that I was very happy with the speed of the process, and the constant flow of communication. The sale went through smoothly and efficiently resulting in my recommending Ayesha to friends who were also looking to buy property!
– K. Burns, Chelmsford
I know we wouldn't have gotten the result we wanted with our immigration case without Ola's help and guidance. She thought of solutions even before we knew there was a problem. My whole family is very grateful.
– Faizal Hussain, Borehamwood
Ayesha provided conveyance services for me on more than one occasion and I have relied on her personally to provide me with information that has guided me on life changing choices.She is trustworthy and dedicated to her profession and I would heartily recommend her.
– Alan Iles, Cumbria
Ola, I'm delighted to give you a testimonial.My consultation with you was very refreshing, and you gave a very creative and intelligent insight to my problem. I now have some hope that this deal can be done, and look forward to working with you more in future. You are such a pleasant change from those expensive pinstripe suit lawyers I'm used to.
– Elizabeth Hanson, Bury St Edmunds
I dealt with Ola Kupoluyi who was very knowledgeable and also very quick to respond to all queries on my leasehold enfranchisement…all her advice was spot on and easy to understand. Thank you.
– Hannah Bonallack, London
Dear Ayesha,Thank you so much for your guidance, professionalism and for being our solicitor! You must have had the patience of an angel to deal with all of that "to-ing and fro-ing"! We will recommend you to everyone buying a house.Looking forward to working with you again when we buy the mansion…
– Mr & Mrs Belgard, Malvern